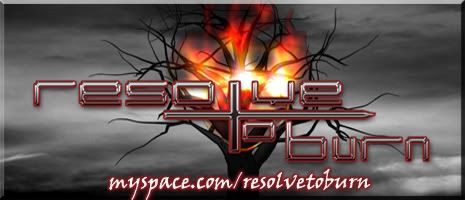 As I mentioned in a previous post, my friends Resolve To Burn were working feverishly to finalize their debut cd and they released it at their show Saturday night.
I wasted no time getting my hands on a copy of the cd and heard them blast through a few of their choice tracks live.
This band is on the rise and it's thanks to a huge support system, great songwriting and musicianship. I met Aaron, the band's charismatic frontman, when he provided vocals for a former project called Downshift. They disbanded and two bands were formed in the wake of their demise but the band to watch is Resolve To Burn. Sever, the lead guitarist, shreds on guitar and lays down the powerful vibe that carries through their album, Process of Elimination. Nate Dodge and Thommy Webster provide a thunderous rhythm and the backbone to their sound, along with bassist Jordan.
Visit their MySpace page by clicking on their banner above and help launch these guys to the lofty status they deserve and vote for them on the Battle of the Bands site. The link is on their page and all you have to do is register and vote for them and go see them play Arco Arena when the Taste of Chaos tour stops here in Sacramento!!